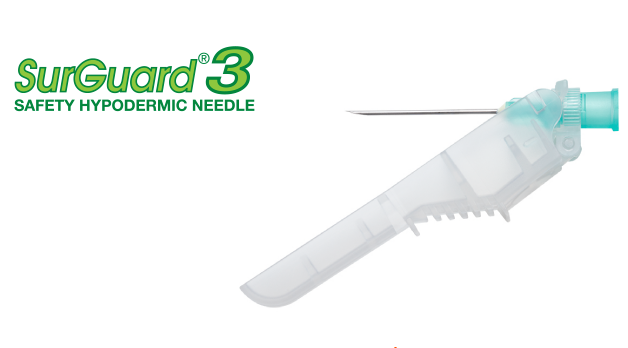 SURGUARD® 3 SAFETY HYPODERMIC NEEDLE
With three ways to activate and a broad range of sizes, SurGuard®3 is the industry's most adaptable safety needle. Add separate thumb and finger grips, unequalled sharpness and competitive pricing, and it's easy to see how SG3 delivers safety, ease of use and simple standardization that make everyone comfortable.
3 modes of activation-thumb, fi­nger, or hard surface
Separate ­finger/thumb grips with ridges and nonslip surfaces
Hub and needle locks for security post activation
Broad range of sizes
Firm injection feel
Sharpest needles among major brands tested*

10% sharper than similar needles from Becton, Dickinson and Company
More comfortable injections for patients
*Reference: Data on File, Terumo Medical Products, April 2016
No matter what you're looking for in a needle, you're looking for SurGuard®3.
SurGuard®3 IFU Video (English)
Available in US
Available in Canada
Available in Veterinary
SurGuard3 Needle with Syringe
100/Box
4 boxes/case (400)
| PRODUCT CODE | DESCRIPTION | AVAILABLE IN |
| --- | --- | --- |
| SG3-03L2025 | 3CC Syringe with 20G x 1" needle | |
| SG3-03L2038 | 3CC Syringe with 20G x 1 1/2" needle | |
| SG3-03L2125 | 3CC Syringe with 21G x 1" needle | |
| SG3-03L2138 | 3CC Syringe with 21G x 1 1/2" needle | |
| SG3-03L2225 | 3CC Syringe with 22G x 1" needle | |
| SG3-03L2238 | 3CC Syringe with 22G x 1 1/2" needle | |
| SG3-03L2325 | 3CC Syringe with 23G x 1" needle | |
| SG3-03L2516 | 3CC Syringe with 25G x 5/8" needle | |
| SG3-03L2525 | 3CC Syringe with 25G x 1" needle | |
| SG3-01T2516 | 1CC Syringe with 25G x 5/8" needle | |
| SG3-01T2713 | 1CC Syringe with 27G x 1/2" needle | |
100/Box
8 boxes/case (800)
| PRODUCT CODE | DESCRIPTION | AVAILABLE IN |
| --- | --- | --- |
| SG3-1825 | 18G x 1" SurGuard3 Safety Hypodermic Needle | |
| SG3-1838 | 18G x 1 1/2" SurGuard3 Safety Hypodermic Needle | |
| SG3-2025 | 20G x 1" SurGuard3 Safety Hypodermic Needle | |
| SG3-2038 | 20G x 1 1/2" SurGuard3 Safety Hypodermic Needle | |
| SG3-2051 | 20G x 2" SurGuard3 Safety Hypodermic Needle | |
| SG3-2125 | 21G x 1" SurGuard3 Safety Hypodermic Needle | |
| SG3-2138 | 21G x 1 1/2" SurGuard3 Safety Hypodermic Needle | |
| SG3-2225 | 22G x 1" SurGuard3 Safety Hypodermic Needle | |
| SG3-2238 | 22G x 1 1/2" SurGuard3 Safety Hypodermic Needle | |
| SG3-2325 | 23G x 1" SurGuard3 Safety Hypodermic Needle | |
| SG3-2338 | 23G x 1 1/2" SurGuard3 Safety Hypodermic Needle | |
| SG3-2516 | 25G x 5/8" SurGuard3 Safety Hypodermic Needle | |
| SG3-2525 | 25G x 1" SurGuard3 Safety Hypodermic Needle | |
| SG3-2538 | 25G x 1 1/2" SurGuard3 Safety Hypodermic Needle | |
| SG3-2713 | 27G x 1/2" SurGuard3 Safety Hypodermic Needle | |
| SG3-3013 | 30G x 1/2" SurGuard3 Safety Hypodermic Needle | |